EXPLORE
OUR REVIEWS
Don't take our word for it, read it from our customers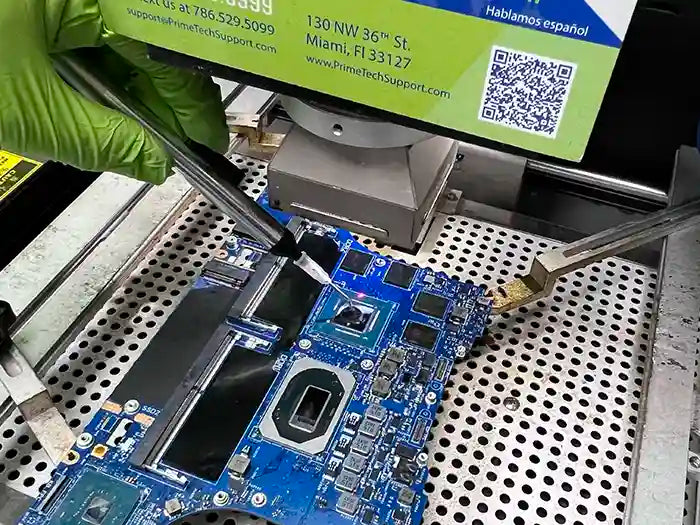 Our customers are always happy to give us feedback and we love hearing from them! You can find some of our reviews below.
We're not just best in Miami, but throughout Florida too-our Google Reviews say so far: 4.7 stars out 5 Stars (with over 220 reviews) | ThreeBestRated awards us two consecutive years as one top 3 computer repair store in Miami; Yelp users awarded 2020 & 2021 & 2022 Best Repair Shop Awards without any hesitation at all.
★★★★★

Came here when my laptop was acting weird and shutting down constantly. Their service was very straight forward as far as running diagnostics and keeping me informed of the process. They were very nice and communicative. After having them issue the results of the diagnostics I ended up opting to buy a new computer rather than having it fixed, however, I was very pleased with their service.

Johanna S.

Atlanta, GA
★★★★★

Literally the only place in America that repairs GPUs!  Not only that, they allowed me to ship it and fixed it within a day or two. They saved me over $900 from having to buy new. When I couldn't figure out how to install drivers. They set up an online appointment and did it for me! Incredible service!

Not only that, they sent me photos of the exact components that they repair and replaced, so there is absolutely no question of their value. I am looking forward to shopping them any computer repairs I may have

Jason G

Hamtramck, MI
★★★★★

Amazing!!
I took my old laptop to get service. It was fixed within 48 hours. The customer service is impecable, I highly recommend this place.
Thank you!!!

Isabel B.

Miami, FL
★★★★★

Absolutely wonderful service! The network at my office was having issues, the internet was coming and going, and my IP phones were not as reliable as they should be. I called Prine Tech as my regular IT guy was busy, and much to my pleasant surprise, they were able to get out to me within hours.

Their technician (I forgot his name) was great, he tested each cable and replaced the terminals on 4 of the lines, everything up and running again, the bill was reasonable and I was thrilled to have found a new resource for my tech headaches.

Christopher N.

Miami, FL
★★★★★

I brought in my gaming PC for high CPU temperature issues. I was beyond pleased with the service I received. They kept me informed through out the diagnostic process and repair by sending pictures and also the diagnostic reports. The location is super clean and the staff and tech experts were super friendly, polite, and informative through out the process. I was informed they do gaming pc builds and offer a lot services and maintenance for gaming PCs, which is good to know and have in the miami area. Their services are reasonably priced. Highly recommend and will be coming back for any future needs.

Jennifer G.

Miami, FL
★★★★★

took my Mac in for repair after I spilled water and salad dressing on it. Prime tech support did an AMAZING JOB. Very affordable, honest and reliable. Computer was fixed in 2 days.

Lauren Jazz Hershey

Miami, FL
★★★★★

Amazing crew that worked super diligently to restore two towers and a laptop I managed to trash to basically non function. Trust your computers to Prime Tech and NEVER call Quickbooks or Microsoft for help, especially on a Sunday, unless you want to talk to some idiot in Manila or El Salvador. Everything QB and Microsoft did while they were logged in, was wrong and beyond destructive. Whereas, everything Prime Tech did to repair the horrendous data loss, operating systems and hard drives was superb!

Chris Ingalls

Miami,FL
★★★★★

If you are looking for a group that is professional, personal, and not only know what they are doing but they also know what you need better than even you do. REALLY!!Prime Tech should be your next stopAlex is a top notch genius at this stuff. He listens to what you need. Gets it done, and points things out that you will need simply based on how you tell him how you use your computerI went in to have everything that I had on an old laptop transferred to a new one that I just bought (7 years of accumulated data, pictures, music, and that is just the tip of the iceberg)Alex took the time to do it right! Afterwards he showed me everything that he did and how to operate the new systemHe is honest, efficient, and will walk you through whether you are a computer literate pro, or someone like me who needs a lot of hand holdingThank you so much for your service. I will never use anyone else for my technical needs.My computer is running great, everything is working as it should and I personally appreciate your follow up call to make sure everything was working properly. That was a great gesture and one that puts your company at the top of my list.It is rare to find good service todayYour service is far above that. You guys are great!!!!Thank you very much Alex

John Pimentel

Miami, FL
★★★★★

Great experience! Half the price of Apple to fix Mac. Nice peopleVery responsive.Keep you informedExplain everythingFastSuggestions with no pressure

Peter Epstein

Miami, FL
★★★★★

Love their Work. They are a honest, hard working team that will pull you through any problem you have

Pablo Rodriguez

Miami, FL
DO YOU NEED A COMPUTER REPAIR SERVICE?
Our team is here to help you solve any software or hardware problems
Explore our Services